Your Connection to an Expert
The Healy can not only
communicate with your smartphone, but ...
The Healy can not only communicate with your smartphone, but you can also connect the Healy to the HealAdvisor® Cloud. Learn  what the HealAdvisor Cloud can do for you.
What is the HealAdvisor Cloud?
You can use the Healy to connect to experts who use the HealAdvisor Cloud. Of course, you will only be connected to an expert if you explicitly request this and unlock them with your Healy app. The same applies for downloading your customized Individualized Microcurrent Frequency (IMF) programs into your Healy app.
Healy experts can help you get the most out of your Healy's IMF application.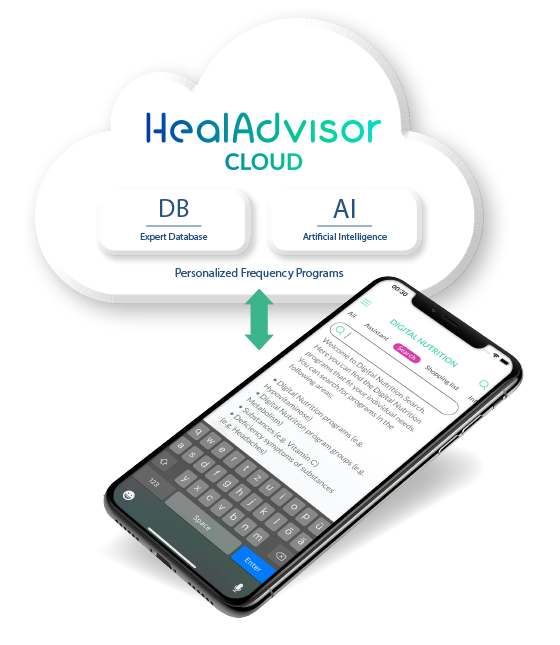 How does the HealAdvisor Cloud deal with Data Security?
Reliable due to patented data transmission methods
For a modern and networked product, security not only pertains to meeting electronic safety standards, but also to data security.
The Healy is cutting-edge in this area as well: the Bluetooth connection uses a patented data transmission method and the HealAdvisor Cloud meets all data protection standards.
Notices:
The Individualized Microcurrent Frequency (IMF) programs of the Healy are not medical applications. They are not intended to cure, treat, mitigate, diagnose or prevent disease, have not been reviewed by a notified body and are not part of a conformity assessment procedure under the MDD/MDR. The information on these pages is for reference and educational purposes only. It should not be treated as a substitute for professional medical advice, diagnosis or treatment. You should always seek such advice from a qualified medical professional.
While Healy World endeavors to keep the information contained in these pages current, no warranty or guarantee concerning the accuracy, suitability or timeliness of information is made. Healy World is not responsible for any loss or damage resulting from the use of the information provided on these pages. All information is presented on an "as is" basis and responsibility for its interpretation and use lies solely with the user.
Healy World does not endorse nor have responsibility for the content of any other websites linked to or from this website.
Healy World, with the advice of its medical advisory board, allows its Members to only make claims that are contained in company materials meant for public distribution. Please contact the company concerning any claims about which you have questions.