Start Supporting Your Pet's Wellbeing With the HealAdvisor Animal Module
Discover the Healy for Animals Product Range
Designed to Promote Calmness and Provide Inner Strength for Your Pet
Many people consider their animals to be among the best friends in their life. We always want only the best for our animal, we want to care for and protect it. But in everyday life it may be exposed to many negative influences: Environmental conditions and manifestations of aging can impair its quality of life and vitality. The Healy for Animals product range helps you to support your pet's wellbeing.
What is the HealAdvisor Animal Module?
Microcurrent applications have been used on animals for decades. The HealAdvisor® Animal module contains the 12 most popular Individualized Microcurrent Frequency (IMF) programs for animals.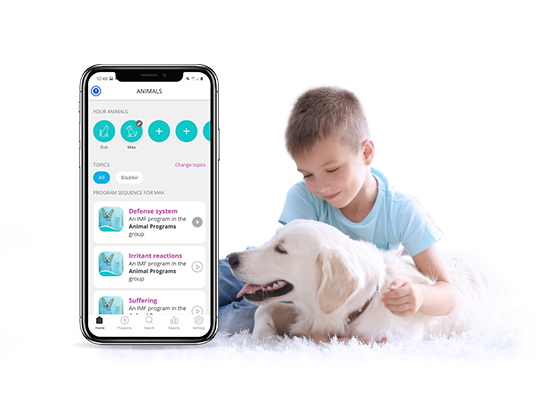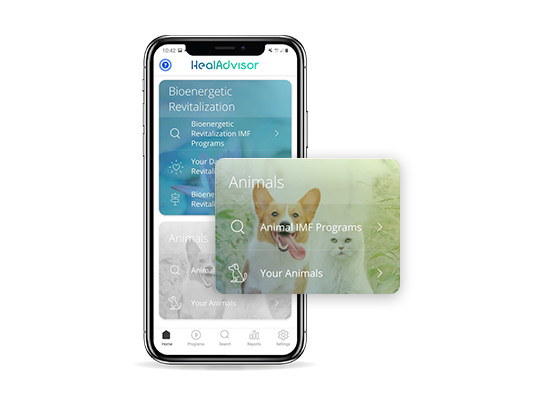 What Healy IMF Programs Can Do for Your Pet
To help you decide which Healy IMF program is appropriate for your animal, the Animal module of the HealAdvisor App will guide you step by step. The HealAdvisor Animal module is designed to harmonize your animal's Bioenergetic Field in a simple, versatile and holistic way.
The Animal Kit contains all the accessories you need for applying the Healy IMF animal programs and contains silicone electrodes that are inserted into moistened applicator sponges and attached to the animal with elastic straps or belts.
The HealAdvisor Animal Module in a Nutshell
Using the HealAdvisor App, the monthly HealAdvisor Animal subscription* lets you find the recommended Healy IMF animal programs to harmonize your pet's Bioenergetic Field. In addition, you get access to the 12 most popular Healy IMF animal programs.
* Your subscription will auto-renew monthly. You can cancel your subscription prior to the date it renews to avoid being charged for the next month.
Notices:  
The content displayed by the HealAdvisor App does not constitute medical or, in case of use with pets or other animals, veterinary advice. Such advice can only be provided by a medical or veterinary professional. The Individualized Microcurrent Frequency Healy programs are intended solely for harmonization of the Bioenergetic Field. If your animal has or you suspect your animal may have a medical condition, or if your animal is under the care of a veterinarian, you should consult the animal's veterinarian before following these recommendations. Any personal data you upload to the HealAdvisor Cloud is encrypted to protect your privacy.
The Individualized Microcurrent Frequency (IMF) programs of the Healy are not medical applications. They are not intended to cure, treat, mitigate, diagnose or prevent disease, have not been reviewed by a notified body and are not part of a conformity assessment procedure under the MDD/MDR. The information on these pages is for reference and educational purposes only. It should not be treated as a substitute for professional medical advice, diagnosis or treatment. You should always seek such advice from a qualified medical professional.
While Healy World endeavors to keep the information contained in these pages current, no warranty or guarantee concerning the accuracy, suitability or timeliness of information is made. Healy World is not responsible for any loss or damage resulting from the use of the information provided on these pages. All information is presented on an "as is" basis and responsibility for its interpretation and use lies solely with the user.
Healy World does not endorse nor have responsibility for the content of any other websites linked to or from this website.
Healy World, with the advice of its medical advisory board, allows its Members to only make claims that are contained in company materials meant for public distribution. Please contact the company concerning any claims about which you have questions.